Flush Water / NextStep / Flush Dairy Digester / Small Farm Digester / Separator / Phosphorus / Biogas / Other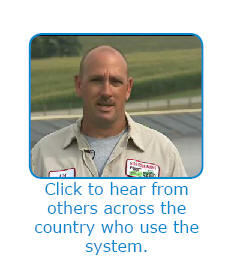 Pro-Act Microbial improves flush water
When our microbes go to work, you will have better quality flush water. Our microbes reduce TSS, BOD, viscosity and odor. This leaves you with cleaner flush water that doesn't leave behind a strong odor.
Less slippery floors

Some dairies have slippery floors in flush barns. The slime is caused by anaerobic microbes that flourish in the warm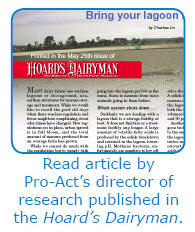 weather. Activating your lagoon with our microbes will bring aerobic microbes into the barn flush system. Our aerobic microbes out-compete the slime microbes for the food on the floor. Thus, the slime microbes do not thrive, and the floors are less slippery.

Flush Water / NextStep / Flush Dairy Digester / Small Farm Digester / Separator / Phosphorus / Biogas / Other

about us / contact us / investors / privacy

Contact the webmaster with questions or comments about this web site.


Copyright © 2009 Pro-Act Microbial, Inc.
The treatment systems of PRO-ACT MICROBIAL® are protected by U.S. Patent No. 7,267,766. Other U.S. and foreign patents pending.